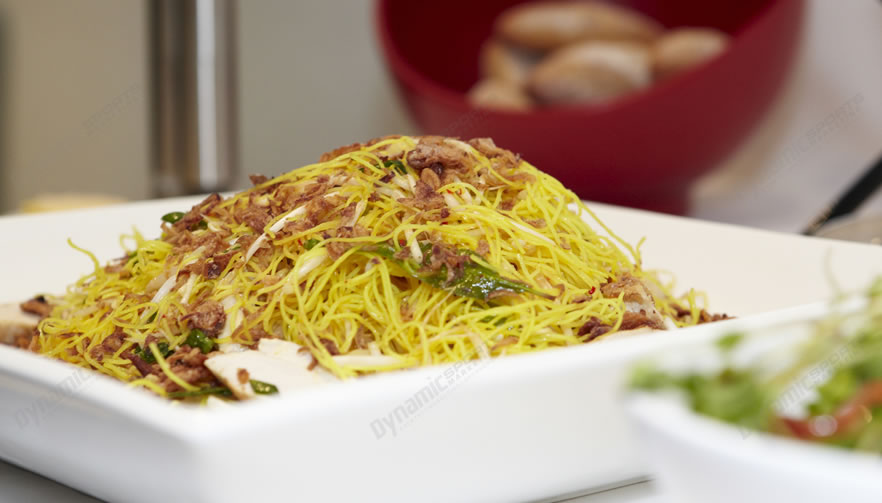 What food menus will I receive?
Each MCG Corporate Box is supplied with a food and beverage menu. The menus can vary on a number of factors, including such things as:
The time of the fixture you are attending. If you attend an AFL match with a 1.10pm bounce, a lunch menu will be served. A match with a 7.10pm bounce will enjoy a dinner menu.
Length of the fixture you are attending. For example, events around the Boxing Day test can go for 9 hours, whereas a Twenty20 game may only last 4 hours.
The time of year e.g. Changes in menus according to the season.
Sample menus:
We've given you a sample menu, to give you an idea of what you can expect when you join us. The following sample menus are for an AFL match. Please note: this information is provided by the sole appointed caterers at the MCG and Etihad Stadium. Dynamic Sports Marketing has no control over the quantity or quality of the menus provided.
MCG Corporate Box Menu (Sample)
On Arrival
Bass strait lobster bun, little brioche, baby radish salad, cress mayo
Garlic & herb salted lamb ribs, zesty lemon & apple relish
Main buffet fare  (served 1 hour prior to the bounce)
Served cold – grilled tasmanian ocean trout, green mango salad, coriander relish
Served hot – harissa rubbed chicken breast, pumpkin & chickpea tagine, fried eggplant, fresh mint salad, sumac labne
Served hot – seared fillet of beef, bubble & squeak potato fritter, peperonata, salsa verde, shiraz glaze
Peruvian quinoa & orange salad, scallion, jalapeno, herbs & spices, smoked paprika emulsion (v)
Bread artisan bakery breads sourdough baguette, ciabatta, grains & seeds, unsalted victorian butter, murray river salt
Half time
Little beef pies & lamb sausage rolls, classic tomato sauce
Bakery fresh scones, strawberry jam, thick cream
Coffee & tea, genovese organic fair trade coffee, tea drop tea selection
Marvel Stadium Corporate Box Menu (Sample):
To Start (on arrival)
Marinated olives, feta stuffed bell peppers, homemade dips, crusty sourdough
Mini prawn cocktail baby cos, Marie Rose sauce
Buffet menu, grazing style (served pre-match)
Sliced prosciutto baby pear, rocket salad, Pecorino, aged balsamic (gf)
Peking duck salad orange segments, hazelnuts,mizuna, radicchio, cardamon dressing (df, gf)
Huon smoked salmon spiced avocado purée, salmon pearls, tomato, roasted pepper, rocket salad (df, gf)
Seven spiced lamb shoulder saffron, almonds, Greek yoghurt, red barberry rice pilaf (gf)
Moroccan style chicken apricots, pistachios, green olives, Israeli cous cous (df)
Potato & leek strudel Red lentil dahl, Chinese broccoli (v)
Accompanied by a Rocket salad, pumpkin, Persian feta, pine nuts, balsamic dressing (gf, v)
Half Time:
Freshly baked scones, Yarra Valley strawberry jam, fresh cream (v)
Classic footy platter party pies, sausage rolls, tomato sauce
Cheese board selectionof cheeses, quince paste, walnuts, muscatels, lavosh (v)
Plunger coffee and a selection of teas Post-Match
Dietary Requirements:
Dietary requirements can be accommodated provided they are advised to us no later than 5 working days prior to the event. After such time, it may not be possible to accommodate for them.
Sample menus listed here are for demonstrative purposes only
Food and beverage menus are subject to change.
Please note: all of the above food menu items may include nuts and/or traces of nuts and gluten
Timings to be used as a guide only .Times may vary from event to event. Final timings will be sent with your tickets.